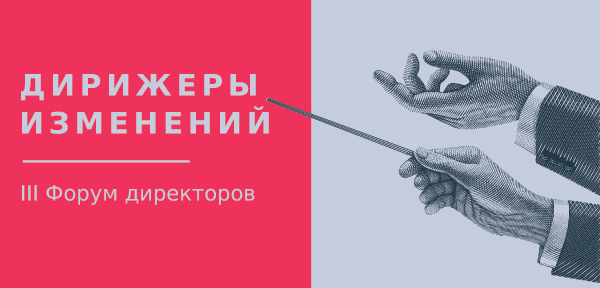 ORCHESTRATORS OF CHANGE
III Directors Forum
November 10, 2016
Hilton Kyiv
Hosted by Nobles Fortune
The search for development strategy for Ukraine is at the heart of the Forum.  
The main component of transformation processes is people, leaders of changes.
The following questions take on new significance: who are these leaders? what values do they believe in? what innovations do they use?
Join agents of changes in discussion between public officials, public opinion leaders and business owners on November 10, 2016 at Hilton Kyiv.
Hosted by – Nobles Fortune
General partner – Deloitte
PR-partner – PBN Hill+Knowlton Strategies
Partner – Talent Advisors
With the support of TRDATA
Issues for discussion:
The development strategy of Ukraine.
Innovation. Going to the next level.
Corporate management.
The role of personality in the transformation process of the state, society and business.
Among the Forum's experts:
Andriy Sadovyi , Mayor of Lviv
Maxim Nefedov , Deputy Minister of Economic Development and Trade of Ukraine
Andrey Bulakh, Managing Partner, Deloitte
Yuriy Vitrenko, Commercial Director, NAK Naftogaz
Alexey Timofeyev, CEO, Trident Acquisitions Corp.
Vitaliy Antonov, Head of the supervisory board, Concern Galnaftogaz
Vladislav Troitskiy, producer, DAH
Arkadiy Vershebenyuk, CEO, Uber
Dan Pasko Chairman of the Supervisory Board, Nova Poshta, Co-founder, Easy Business
Tymofiy Mylovanov, Executive CEO,  Kyiv School of Economics
Igor Novikov,  Ambassador of Singularity University in Ukraine
Roman Bondar, Partner, Talent Advisors
Vladislav Rashkovan, Partner, SD Capital
Pavlo Ryzhii, Innovations Manager,  Philip Morris Ukraine, Armenia, Georgia and Moldova
Participants invited:
Owners, CEOs and CFOs
Industries: agricultural, FMCG, retail, machine-building, MMC, fuel and energy, chemical, pharmaceutical, financial, logistics and IT.
Participation costs– UAH 6 000
A 15% discount is offered to TRDATA community
Special registration code is FDTRD
The program includes:
networking unprecedented in its efficiency
panel discussions, feedback and comments on focused questions, keeping away from formal reports
workshops, technological and communication innovations
tasting, the best whiskeys
and a host of other things.
Additional information and registration: +38 044 221 53 17 info@noblesfortune.com