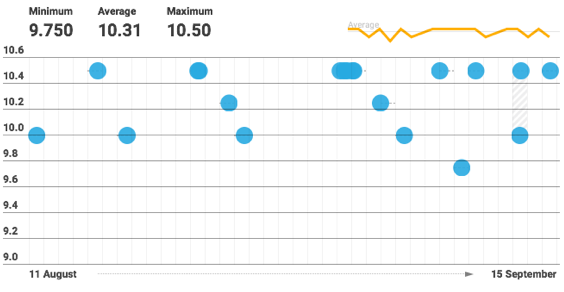 The Bank of Russia decided to reduce the key rate from 10.50 to 10.00% p.a.
On 16 September 2016, the Bank of Russia Board of Directors decided to reduce the key rate from 10.50 to 10.00% p.a. given the inflation slowdown, in line with the forecast, decrease in inflation expectations and unstable economic activity. However, for the trend towards sustainable decline in inflation to strengthen, according to the Bank of Russia's estimates, the current value of the key rate needs to be maintained till end-2016 with its further possible cuts in 2017 Q1-Q2. Considering the decision made and persistent moderately tight monetary policy, the annual consumer price growth will stand at 4.5% in September 2017 and will then go down to the 4% target in late 2017. When making its key rate decisions in the coming months, the Bank of Russia will assess inflation risks alongside economy and inflation dynamics' consistence with the baseline forecast.
We are happy to announce the results of TRDATA's Forecast. The first user to correctly predict the key rate was Dmitry Borisov (LOCKO-Invest). An additional 4 users also provided correct predictions:
Evgeny Kulagin (LOCKO Bank)
Stanislav Bozhenko (Otkritie)
Eugene Chushnyakov (Transstroibank)
Sergei Yezhov (OEMK-Invest)
The Bank of Russia Board of Directors will hold its next rate review meeting on 28 October 2016.
Congratulations to all who placed the correct predictions and thanks for participating on our platform!